We Are Lighting Resources
Lighting Resources is the nation's largest bulb recycler delivering environmentally sound processing to businesses and commercial contractors for more than 25 years.
With 14 facilities, our own fleet of permitted vehicles, and a comprehensive mail-back recycling program, Lighting Resources is uniquely positioned to manage universal waste by the unit or truckload.
Lighting Resources delivers waste processing and management solutions for all types of bulbs, batteries, PCB and non-PCB ballasts, tritium exit signs, smoke detectors, airbags, mercury-containing devices, and electronic waste.

Recycling bulbs prevents the release of mercury into our environment.  Mercury containing bulbs such as CFLs and other fluorescent bulbs can break when thrown into a dumpster, trashcan or compactor, or when they end up in a landfill or incinerator.
Not only do we reclaim glass, metals, and plastic for re-use in manufacturing, Lighting Resources uses high-temp retort ovens to remove mercury from the phosphorous powder in bulbs. We distill the mercury to create uncontaminated mercury for scientific and commercial re-use and create a clean phosphor powder that contains rare earth elements for use in industrial manufacturing.
The technology and processes we perform are unsurpassed in the recycling industry. Better equipment means more material is recovered and recycled and the risks associated with toxic contaminants is eliminated.
Message from Dan Gillespie, President Lighting Resources, LLC

"Our strength comes from the integrity of our employees and their desire to service customers.  We know customers are our most important asset and we must earn their business every day.  We must also hold ourselves to the highest safety, compliance, and environmental protection standards for our employees, customers, and communities in which we work.
I am very proud of our continued expansion.  We have grown from three facilities to thirteen during the last 8 years and we have doubled our revenue every 6 years while continuing to increase profitability.
I am privileged to work with a very competent Executive Committee, management team, and workforce that I believe gives us a competitive advantage."
Who We Are
Lighting Resources began in 1989 with a single fluorescent lamp recycling facility in Ontario, California. A pioneer in fluorescent bulb recycling, the company is now the nation's largest bulb recycler picking up large quantities of wastes from companies and institutions across the country. In addition to bulbs Lighting Resources also manages spent batteries, lamp ballasts, mercury-containing devices, automotive airbags, and electronic and computer waste. Lighting Resources has grown over the last three decades and now includes multiple facilities across the U.S., a nationwide, fully permitted truck fleet, and state-of-the-art lamp processing equipment.
Building on this success, the EZ on the Earth Division was created to give the same valuable, nationwide service to smaller customers. When pallet loads and truckloads are more than you need, EZ on the Earth Recycle Kits fit the bill. EZ makes it easy to recycle bulbs, batteries, non-PCB ballasts, mercury thermometers, switches, smoke detectors, tritium exit signs and electronic and computer scrap. Everything you need is included in one upfront price, including the kit, all recycling, and shipping. And, after your kit is returned for recycling, you can obtain your Certificate of Recycling online at certofrecycling.com.
EZ on the Earth is the exclusive master distributor to sell Advanced Photoluminescent Technology® Exit signs as well photo-luminescent tapes and markings. We also sell cut resistant gloves to safely manage glass bulbs and other items.
What We Do
Lighting Resources and its EZ on the Earth division are committed to providing quality recycling services to clients nationwide. Whether you have truckloads of waste light bulbs or just a bucket of spent batteries, we have a recycling solution that will take care of your wastes, keep you in compliance, and help you manage your environmental commitment.
Lighting Resources is the nation's largest fluorescent lamp recycler.  Operating 13 locations throughout the United States and a nationwide truck fleet, we also recycle electronic scrap, batteries, ballasts, thermostats, tritium exit signs, and smoke detectors.  As we continue to grow we are now offering new and innovative products for sale including zero energy maintenance free exit signs, tritium exit signs, photo-luminescent tapes and markings.
Whether you generate truckloads, pallets, or require a recycle kit, Lighting Resources can service your needs.
Large Quantity Recycling
Lighting Resources' Nationwide Fully Permitted Truck Fleet picks up large-quantity recyclables, from bulbs and batteries to ballasts and computer waste and more, from customers across the U.S. and delivers them to our best-in-class recycling facilities.
Small Quantity Recycling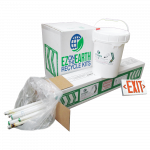 EZ on the Earth helps customers manage small quantities of recyclables with a full line of prepaid, mail back Recycle Kits for light bulbs, batteries, ballasts, e-scrap, mercury devices, smoke detectors, and tritium exit signs.
Environmental Responsibility
Lighting Resources and EZ on the Earth are committed to best-in-class recycling practices including using state-of-the-art equipment to recycle and recapture as much material as possible, keeping it out landfills and the environment.