Recycling Regulations & Resources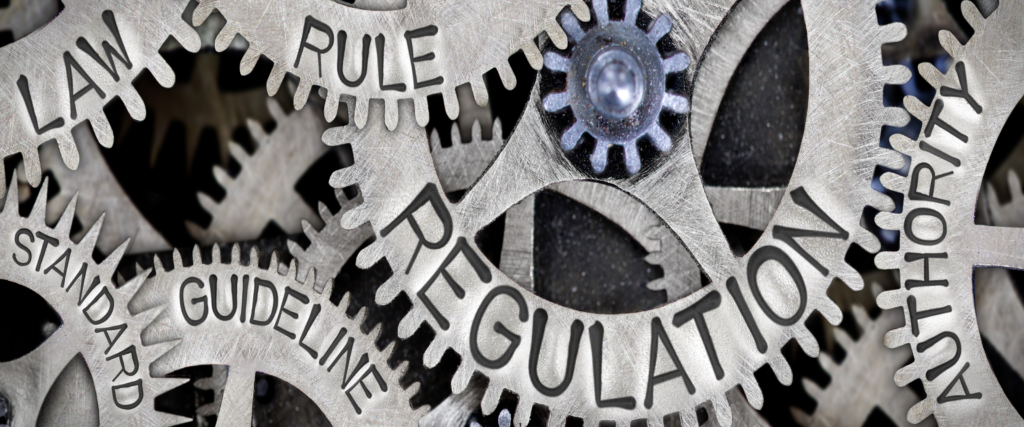 Fluorescent lamps, high intensity discharge (HID) lamps, mercury devices, and batteries contain toxic heavy metals including mercury. Most of these wastes are regulated by the U. S. Environmental Protection Agency (EPA) as a universal waste. In addition to federal regulations, many states and local municipalities abide by even stricter regulations, and many wastes are banned by companies operating landfills. Federal regulations also require businesses to properly dispose of spent tritium exit signs and smoke detectors due to mildly radioactive components that are regulated by the Nuclear Regulatory Commission (NRC).
Where to find Regulations about Recycling
FEDERAL REGULATIONS
Used mercury-containing lighting products, batteries, and mercury devices (such as thermostats) are regulated by the Environmental Protection Agency under the Universal Waste Rule (UWR)[1], which is a subset of the Resource Conservation and Recovery Act (RCRA) Subtitle C hazardous waste regulations. Most states have adopted these rules, and several have adopted regulations that are more stringent than the UWR.
The federal hazardous waste rules are a complex set of regulations affecting all aspects of waste management. They are found in the Code of Federal Regulations (40 CFR Parts 260-279). The Universal Waste Rule is a subset of these regulations which streamlines the management of selected common hazardous waste products. These products include batteries, certain pesticides, thermostats, and lamps. In general, this rule prohibits spent lamp disposal in municipal landfills. It is important that you are acquainted with both state and federal regulations to determine how they apply to you.
RECYCLING REGULATIONS IMPORTANT LINKS:
(Clicking on a link will open a new tab on a page outside of this website)
Lamp Compliance Regulations – Association of Lighting and Mercury Recyclers
State by State Lamp Regulations – Association of Lighting Mercury Recyclers
US EPA Regulations for Universal Waste
Universal Waste – Code of Federal Regulations – CFR 40, §273
Universal Waste Lamps – Code of Federal Regulations – CFR 40 §273.45
Universal Waste Batteries – Code of Federal Regulations – CFR 40, §273.2
Mercury Containing Devices i.e.; Thermostats, Switches, Thermometers, Medical Devices – Code of Federal Regulations – CFR 40, §273.4
USEPA Regulations on Polychlorinated Biphenyls (PCBs)
U.S. Nuclear Regulatory Commission Regulations for Disposing of Tritium Exit Signs
U.S. Nuclear Regulatory Commission Regulations for Disposing of Smoke Detectors
Universal Waste One Hour Training Module for Lamp Recycling
Resource Conservation and Recovery Act (RCRA) Training Module About Universal Waste
The Hazardous Waste Electronic Manifest (E-Manifest) System
DOCUMENTS: