Automotive Airbags
Hailed as a major automobile safety advance, since 1998 federal law has made automotive airbags required equipment in all cars and light trucks sold in the United States. As vehicles leave the road through crashes, malfunctions, or age, tens of millions of airbags comprised of recyclable materials such as metal, plastic and nylon and explosive charge units are in need of proper disposal … and can be recycled.
Car dealers, auto recyclers, auto repair shops, and salvage yards are faced with how to determine and follow state and federal regulations for the proper handling and disposal of un-deployed auto airbags. The U.S. Environmental Protection Agency (EPA) has deferred responsibility to individual states to determine how used airbags – whether deployed or un-deployed –  are regulated. State regulations vary widely and are always subject to change. The best answer? Recycle!
FIND LIGHTING RESOURCES NEAR YOU
Lighting Resources is dedicated to Recycling and Reclaiming 100% of Automotive Safety Components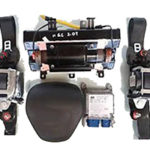 Lighting Resources' airbag recycling process philosophy is to recover three key commodities:  Scrap Metal, Plastic, and Scrap Nylon. Airbag modules from steering wheels, glove boxes, side curtains, and others as well as seatbelt pretensioners are disassembled. The charge unit, nylon bag or seatbelt strapping, metal, and plastic are all recovered and reclaimed. Charge units are electrically discharged and then recycled as scrap metal. Our recovery and reclamation process ensures ZERO LANDFILL WASTE for recycled airbag modules.
Operations of our automotive airbag recycling program in Johnson City, Tennessee is not operational at this time. For further information contact Lighting Resources at (423) 328-7012
Call (423) 328-7012 to ask about automotive safety component recycling